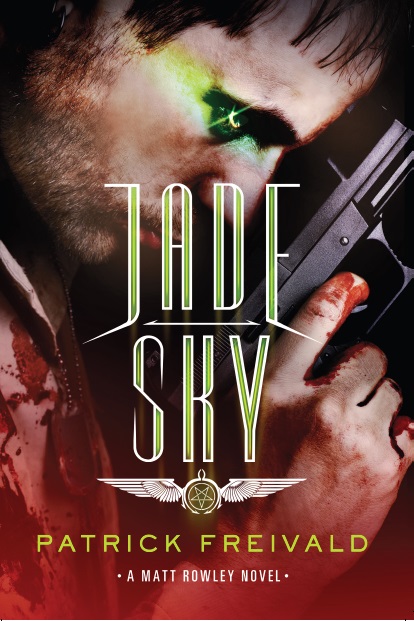 Matt Rowley hasn't been human for years. A commando for the International Council on Augmented Phenomena, he hunts down superhuman monsters the military can't handle. But his abilities come with a price: bloodthirsty whispers that urge him to acts of terrible violence. An encounter with a giant, angelic being with wings of smoke and shadow casts him into a world of inhuman brutality, demonic possession, and madness, where he must choose between his family and his soul.
"JADE SKY is a an ass-kicking action-fantasy that takes no prisoners. Lightning fast, brutal and way too much fun. Highly recommended!" –Jonathan Maberry, New York Times Bestselling author of CODE ZERO and FALL OF NIGHT
"JADE SKY is one of those all too rare reading experiences that just consumes you…. Freivald made a future so rich in detail and so full of life and energy that I couldn't help but lose myself in it. This is a book full of wild invention and even wilder action, yet grounded by a genuinely sympathetic love for the people who live there. Freivald has truly reached a new high water mark here, which is pretty scary considering that he was already so damn good." —Joe McKinney, Bram Stoker Award®-winning author of PLAGUE OF THE UNDEAD
"JADE SKY rips like a bullet… or an entire armory of same. Cinch up your body armor and enjoy Patrick Freivald's blitzkrieg through dark trenches and the corridors of the human heart–I sure did."–Norman Partridge, author of DARK HARVEST
"With Jade Sky, Patrick Freivald takes science fiction, the supernatural and action adventure, seamlessly combining the genres in a unique and page-turning thriller. He brings his world, characters, dialogue and narrative to life with skill and assurance that keep the reader turning the pages. Loved this book!" —Dana Fredsti, author of PLAGUE WORLD
"JADE SKY delivers on its promise of action, suspense, and brutality, all with a decided supernatural twist. Matt Rowley is a worthy entry into the monster hunter/paranormal vigilante genre. Once you pick this book up, you'll find yourself loathe to put it down, as each chapter ratchets the thrills higher and higher."–JG Faherty, Bram Stoker Award®- and Thriller Award-nominated author of multiple novels and novellas, including THIEF OF SOULS, CARNIVAL OF FEAR, and THE BURNING TIME.